Your monthly roundup of great content in Faithlife Connect.
View in browser
If you would prefer not to receive monthly newsletters from Faithlife Connect, click here.
Get Your Books and Courses
Use these codes to redeem courses or ebooks of your choice:
Course codes are valid for one year from the date issued. You'll maintain access to the course for six months from the date you redeem your code.
Faithlife Connect Highlights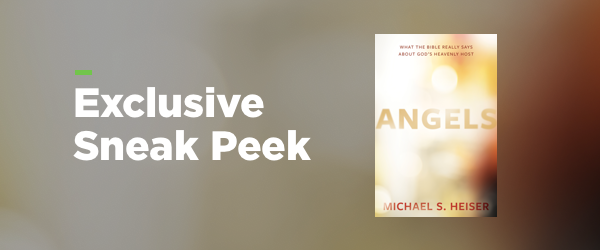 Faithlife Connect subscribers get an exclusive sneak peek into the first three chapters of Dr. Michael Heiser's new book, Angels: What the Bible Really Says About God's Heavenly Host, releasing September 19.
Sharpen your marital counseling skills in the Counseling for Marriage and Family Mobile Ed course. Dr. Dan Zink analyzes key marital issues, explores critical conversations for couples, and provides tips for how to help couples improve their marriage to be more like God intended.

Faithlife Connect subscribers can get up to eight courses a year (depending on subscription level).

Learn more about the course.
Get codes to redeem courses.
Doing Theology Series (5 vols.)
As a Faithlife Connect subscriber, you get full access to this collection throughout the month.

Learn more about your theological heritage and identity with the Doing Theology Series. The series analyzes five major theological traditions (Reformed, Methodist, Lutheran, Baptist, and Anglican) and surveys the foundations and history of each. Click below to start reading the first volume.
In this inspiring drama, sixteen-year-old Jobe, a misfit and loner who has inherited his father's athletic ability and love for running, is mentored by retired ex-Olympian Harry White. It's up to Harry to encourage Jobe to dig deep and decide what type of man he wants to become.
Faithlife Connect subscribers can download one Faithlife original ebook each month. This month, consider downloading Wondrous Pursuit: Daily Encounters with an Almighty God. See God's unseen hand as he works through the lives of his people to deliver them from destruction.

Coupon code: FREEORIGINALSEP

Learn more about this resource.
Browse books.
This month, consider downloading Morning and Evening: Daily Readings. In his classic daily devotional—loved by Christians for over a century—Spurgeon offers practical insights for everyday Christian living.

Coupon code: FREECLASSICSEP

Learn more about this resource.
Browse books.
Shop Faithlife Connect Exclusive Deals